The next time you visit Florida, don't forget your skates. With a plethora of venues to choose from, make sure Astro is on your must-skate list. Owner Chris Maganias strives to keep every one of his 6 rinks in tip-top shape, visiting each one at least twice a week. It's a 472-mile drive to reach them all. "You can't run a rink remotely," he preaches, which is why he does it.
Each Astro location boasts a wood floor: Tarpon Springs, Pinellas Park, Bradenton, Brandon, Orlando, and Ormond Beach. You'll also note the enthusiastic crew, newer rental skates (they get replaced every 6 years) and a clean, modern facility.
Skater's Paradise
Astro is a family fun center that revolves around roller skating. That includes lessons for all skill levels and disciplines, such as speed skating, jam skating, and artistic. Plus, Maganias and his team sell a lot of gear from the rink pro shop. And he keeps his staff happy with regular coaching and incentives, to keep them motivated. His employee turnover is extremely low, compared with most skating centers, so job openings are rare.
Astro History
Chris Maganias' parents opened the Tarpon Springs location 40 years ago, not long after his family relocated to Florida from New Jersey. Maganias and his sisters purchased the rink from his parents 5 years later, and then Chris eventually bought them out to become the sole owner. Riding the ups and downs of the economy, which could be described as feast or famine, Maganias went on to purchase 5 more Florida rinks over the next 3 decades, sparing each property from shutting down. Every facility was cleaned and completely renovated before re-opening, with new skates, paint, carpeting, countertops, parking lots, lighting, and sound. "You gotta invest money and make it exciting," he claimed. Although, he proudly admits his office still looks like it did back in 1981 along with a framed loan payment on the wall to remind him how far he's come. "It keeps me hungry," he admitted.
The Pink Rink
One thing you can't miss at Astro Skate is the color pink. It's everywhere, including the Pink Party Panda, glow carpeting, lockers, and even army vans and party busses that transport eager skaters across Florida to their favorite rink.
Why Pink? Maganias told the RollerSk8r that back in the day his rink was tan and brown and he wanted to make it more modern. "We looked like a nursing home. My sisters came in with paint samples and couldn't decide. I was running the sound booth, and asked the kids what colors they liked best. A young girl stepped forward and yelled 'PINK!'" The rest of the crowd agreed and the brand was created.
The mayor, however, was not quite as excited when the building's exterior was initially being painted. Ormond Beach is the only Astro location without a pink exterior due to code enforcement.
Busses and Bubbles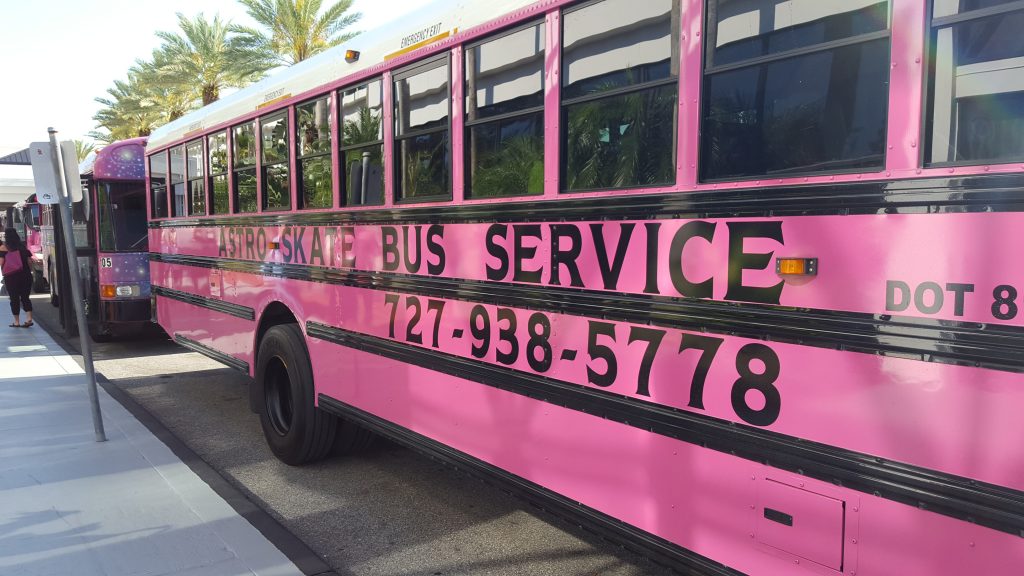 As a busload of excited kids approach the front door, you can hear the loud chanting ASTRO SKATE! ASTRO SKATE! ASTRO SKATE! They can't wait to get inside. A bubble machine greets guests upon entering and exiting the building.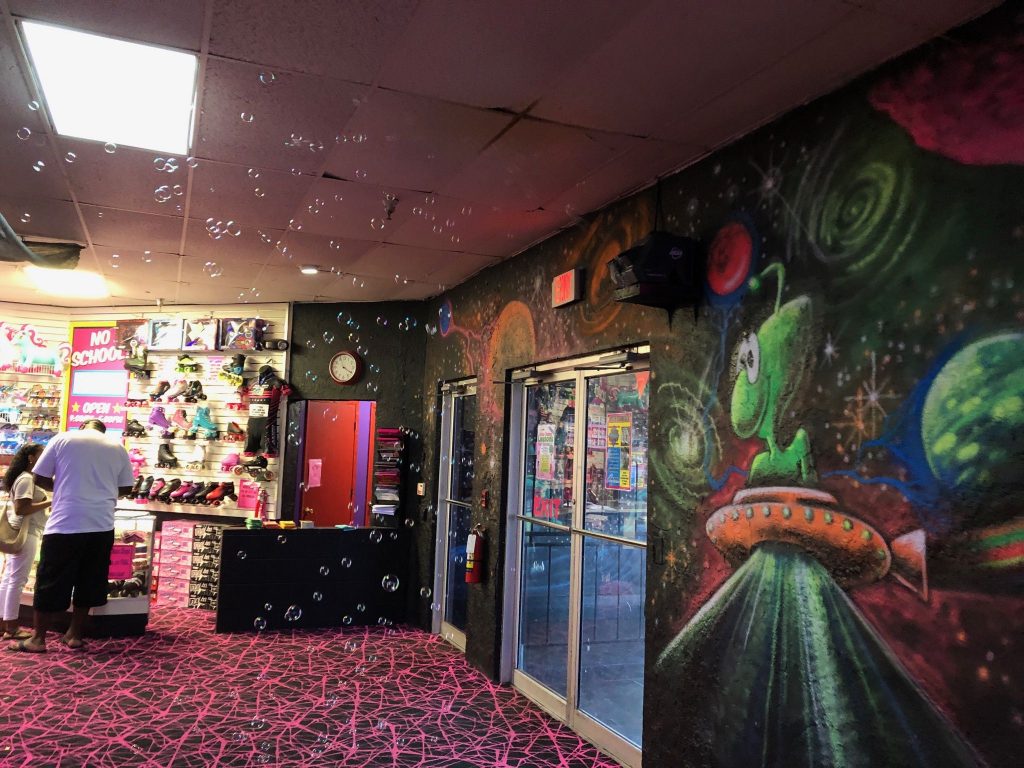 Maganias has been known to drive a busload of kids himself, rapping over the intercom to get them pumped up about their visit.
Employment Training
More than an entertainer, he takes his role of rink operator seriously. "I hold my employees accountable and teach them how to be great team members, and learn employment and people skills." Maganias is proud to be coaching today's youth on how to be effective workers with a great attitude.
Competitive Events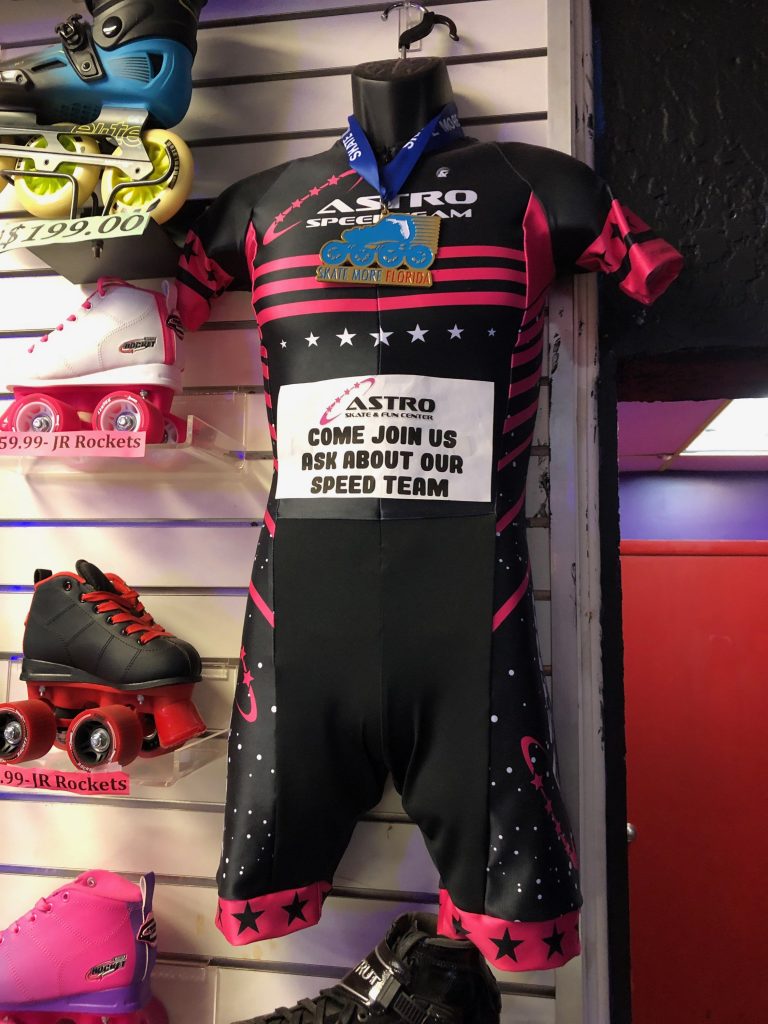 Further, Astro Skate is the host of many competitive meets focusing on artistic, speed, and jam, bringing back one of the biggest meets in the world: The Orlando Classic. And, a few Astro locations offer morning sessions for older skaters looking for a calmer vibe. Currently, those sessions run in Pinellas Park and Orlando on Tuesdays. Plans are in the works for Bradenton.
A new rink in 2021
Ormond Beach was added to the Astro galaxy of rinks in 2021 and is still undergoing renovations due to the difficulty of finding building contractors. The rink already has a new skate and stuff shop, rental skates, pizza ovens, lights, and granite counter tops, but is still waiting on doors. "Normally I'd be done by now," Maganias said. Material shortages are also to blame due to CoVID-19.
Advice for Future Rink Owners
When asked about tips for future rink operators on how to be as successful as Astro Skate, Maganias reiterated, "spend some money and fix up your rink – people will come. Also, hire exciting people who love the skating industry."