by Sara Hodon
Traveling can be nerve-wracking enough but bringing precious cargo along can add a whole new level of stress. As longtime roller skaters who travel regularly for parties, competitions, and other events can attest, different means of travel require different safety precautions, but there are a few general tips that apply to leaving home on a plane, train, or automobile.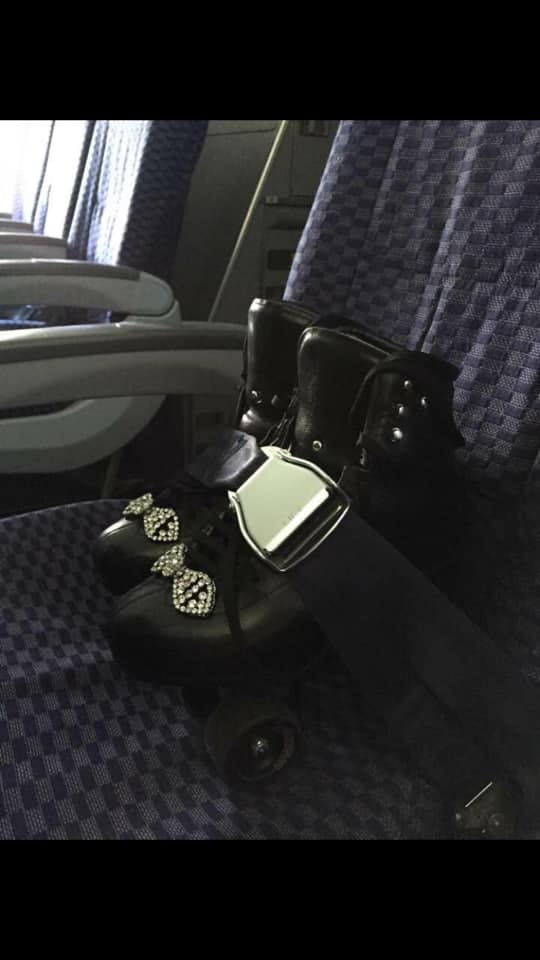 One golden rule that applies to traveling in any way is never be far from your skates. "When I fly, I never check my roller skates. I never let them out of my sight," says Margaret "Peggy" Flefleh, a skating enthusiast who travels around the country for skating parties and to sell her skating-themed jewelry and gifts. "I was flying once and tried to check them because there was no more room in the overhead compartment. I tied the laces together, threw them over my shoulder, and said to the flight attendant 'I'll stick them under my seat.'" She adds, "I would advise keeping them with you at all times—even if you go to the bathroom."
Flefleh started skating later in life and hasn't looked back. "I've been heavily skating since I was 30. I took my daughter to a birthday party at a rink and said, 'This looks like fun!' I went to an Adult Night at the same rink that night and I was hooked." When Flefleh turned 50, she started traveling for skate parties. "I got sucked into the skating world," she laughs. Around the same time, Flefleh started giving friends old skate keys she'd been collecting for years. Now, Flefleh sells the keys and skating-themed jewelry at parties and different events. Talking to others is one of the most enjoyable parts of these events. "Everywhere I go, people have a roller skating story," she says.
Skates on a Plane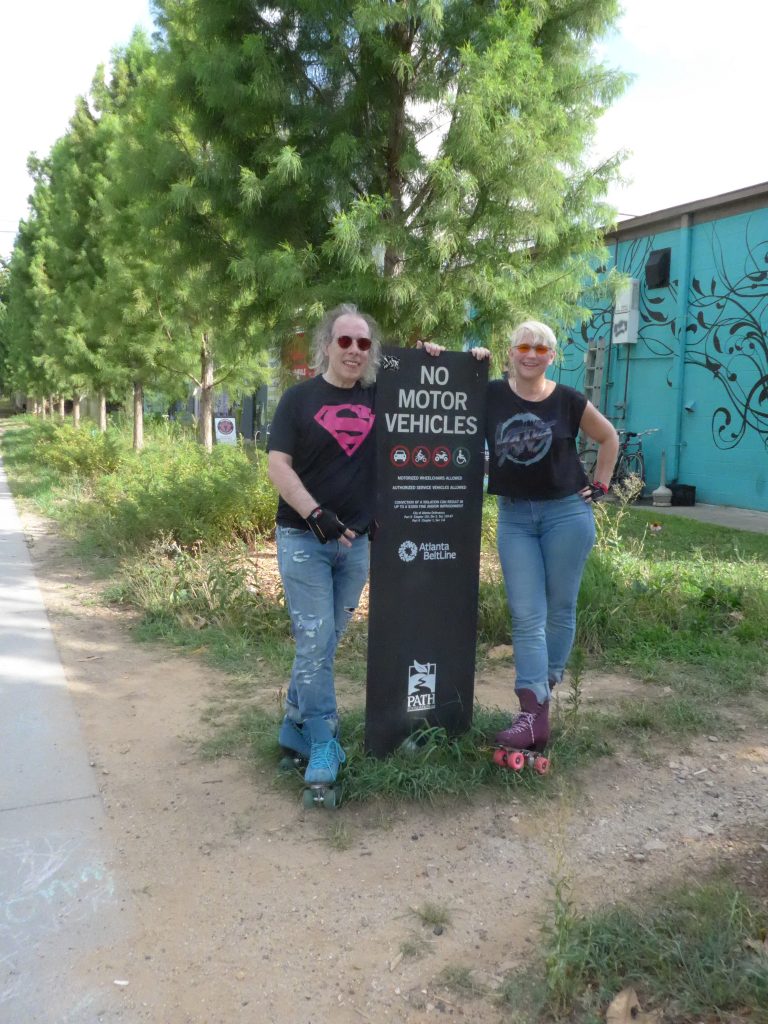 Joerg "Jay" Beewitz, known as "Dr. Rollerskate", is based in Berlin, Germany, and has traveled all over the world to skate. He runs the roller skating website Roller.Sk8.Berlin. "Traveling is part of my 'skate life', which implies that almost all private travels are linked to roller skating. Also, on business trips I usually take a pair of skates like others take running shoes." In 2018 Beewitz made five flights to the U.S., five flights to various European cities, and several car trips for skating. Airlines have gotten much stricter with their baggage policies, and Beewitz strongly suggests reviewing your carrier's weight requirements for luggage prior to flying to avoid stress at the gate. "When I'm flying with checked luggage, my skates are in a backpack. Skate tools, a second set of wheels, and other gear should be stored in the checked suitcase. When you are traveling only with carry-on luggage, you should obey the weight restrictions. One pair of skates weighs about four pounds, so with some airlines you are only able to put an additional eight pounds in the on-board suitcase." If you're close to the weight limit for your checked bags, it might be time to be selective. "Skaters have to be good at the art of cutting out dispensable items," Beewitz says, adding skates could be considered a carry-on item (in the same category as a handbag) if they fit perfectly in the seat in front of you. It's best to put them in a bag of some kind, depending on the type of skates you have. "You could carry them on a skate leash, which might look cool but is not a good idea. They might be considered a dangerous item because of the metal parts, and rejected when you get to the cabin door," he points out.
Lost or damaged skate liability
Each carrier has different policies for lost or damaged items which are usually explained in their Conditions of Carriage (available on most carriers' websites). To give a few examples: according to American Airlines' (AA) policy on their website, they are not liable for damages unless the item is in a hard-sided case. They will pay up to the value of the items in a bag that are missing or damaged. You must provide receipts and proof of loss. Southwest Airlines' policy states they will compensate passenger for reasonable, documented damages up to the limit of liability. But if you're still uneasy? AA's site says it best: "Never check anything you can't live without. If an item is irreplaceable, sentimental, or vital to your well-being, keep it with you or leave it at home."
Rolling through Security
Security checkpoints and working with TSA is all part of the experience. If you follow the policies, are at or under the weight limits for checked luggage, and are generally cooperative, your security procedure should be brief and uneventful. Keep in mind that the agents are simply doing their job. Beewitz says most of his interactions with the agents have been pleasant. "Let's mention the positive reactions you get when the airport security officers spot your skates in the X-ray scanner," he says. "Many times you get smiles and frequently it's a reason for small talk." If you are pulled aside by an agent, Beewitz says, it's just a formality. "It's not personal. Agents must do a closer inspection of travelers with unusual items, like roller skates." And if you spend a good deal of time in airports, it helps to get along with all airport personnel.
Skating in the Terminal
Ginger Mathews, aka "The Skate Critic" travels throughout the country an average of 15 times a year between flying and driving (she's been to 32 states), visiting rinks and skate parties and can speak to this firsthand. Once, when sitting in an airport waiting for a flight, the airport terminal became an impromptu roller rink. "I had my son drop me off at 10 p.m., and I figured I'd catch some zz's. Unknown to me, this airport completely shuts down around 9:30 p.m.," she says. "I was doing some paperwork, getting caught up on a few things, but then when that was finished, I was bored, so I got out my skates. This was at maybe 1 or 2 a.m. No one was around." An airport security guard, although impressed, asked her to put the brakes on her skating routine. "He saw me on his security monitor," she laughs. "He said the skating looked really cool, but he didn't want the airport to be liable if I fell." Fortunately, Mathews has never lost her skates, mainly because she carries them onboard. "My skates and purse go on the plane with me," she says. "I don't check my skates because I may never see them again. Keep an eye on your skates. If you get to where you're going and you don't see your skates, you won't have a very good time. My skates are always one compartment above me and I know where they are at all times."
Skates in a Car
Flefleh typically drives if she is going to an event within 3 hours of home. "Most of the skate parties I attend start at midnight and go until 4 or 5 a.m. After driving for more than 3 hours, that's a long day," she explains. Driving gives you more control over certain situations, and you can secure your valuables (read: skates) as you see fit. "I wouldn't recommend leaving them in the car," Flefleh says. "Cars are easy to break into. I also wouldn't leave them out in the cold."
Mathews will drive from her home base in Concord, CA if her destination is less than 12 hours away. Her best advice for taking skates in the car is to keep them well out of sight. "Keep them in the trunk—not in the hatchback or back seat," she says. "If they're in the trunk, they're out of sight. And never get a rental car that doesn't have a trunk." And always treat your skates as you would any other luggage and bring them into your hotel room for the night.
Plan ahead
Traveling is a rewarding experience that gives skate enthusiasts the opportunity to connect while exploring places very different from home. By relying on good old-fashioned common sense and doing some pre-planning, you can focus on making memories with your fellow skaters and not stressing about trip logistics or lost skates.
Safe travels and skating!