by Susan Geary
If you're the type of person who reads the reviews before making a purchase or reserving a hotel room, and you love to skate at different roller rinks, you're in luck. The roller rink industry has more than just Google and Facebook reviews to help steer you in the right direction. It's got a bonafide Skate Critic whose real name is Ginger Mathews. Over the past 5 years Ginger has visited and evaluated 300+ rinks, and she invited me along on her tour of rinks in Southwestern Virginia in late June, visiting 8 rinks (and Southeastern Skate Supply) in 3 states over 4 days. She continued on toward Raleigh and Wilmington (for more rink critiques) after I told her I needed to get back to work!
Her Skating Background
What qualifies Ginger to be The Skate Critic? Her parents met at a roller rink. Her mom was an art skater, and her dad was a rink rat. Her mother passed away when Ginger was an infant, and her dad remarried another art skater. Plus, her aunt and uncle owned and/or operated rinks in Northern California, where she still lives. Additionally, her uncle wrote the rules for roller derby and her aunt was a writer for the Rinksider many years ago. He's still involved, overseeing 3 derby teams. Ginger's cousin Heather played on the US Women's roller hockey team and took home the gold medal. As for Ginger, she's been skating for most of her life.
During my ride along with The Skate Critic, we toured 6 Southwestern Virginia rinks, one on the Tennessee border, and another in Eden, North Carolina. I wanted to see what Ginger looks for, how she decides on a rating of 1-8 Wheels, just like the 8 wheels on a quad roller skate.
How they're rated
"Every rink starts with 8 wheels," she reveals. "Then they get deductions for certain things, like a rude employee, a jacked up floor, safety issues, or bathrooms in need of attention." Only one rink she's rated so far has earned her top rating of 8 Wheels and 2 Toe Stops. "Oh, that's Oaks Park, you have to go there." Oaks Park, the nation's oldest rink is along the Willamette River in Portland, Oregon. Its gleaming hard wood rotunda floor, storied history, live organist, and location within an amusement park are what generated the toe stop bonus.
Her approach
When Ginger first enters the rink parking lot, she'll jump out of the car with her phone and take pictures of the rink sign. Next she gathers up her Zuca bag with her skates and measuring tool, and continues to take photos of other signage as she makes her way into the building. As she approaches the admissions window, she asks to speak to the manager and introduces herself. "Hi I'm Ginger, the Skate Critic. I travel worldwide to review roller skating rinks and today I'm here to review yours."
Sometimes the rink operator is caught off guard and looks a bit frightened after hearing that. But most appreciate her visits. "She's fair, and she's accurate," Roller Skating Association President Jeff Couey told me and other members at the annual RSA convention this past May.
Ginger's rink visits are no guarded secret. If you follow her on social media you'll know what city she's on her way to. When she lands in a rink parking lot she posts on Facebook, "Rolling, rollin', rollin'' with a location check-in. At that point, it's a little too late to get the floor recoated or new carpeting installed to meet her standards anyway.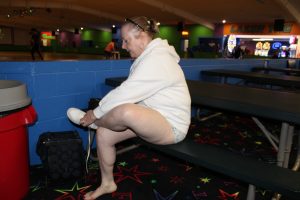 Once Ginger and I were buzzed inside, she glanced around for a first impression, found a seat and unpacked her skate bag. Next she whipped out a wheeled device and began measuring the floor. A lot of times the rink owner asks, "what does it measure?" Most of the time, they agree with her assessment. But numbers can shrink when the floor is trimmed for a playground or other attraction that the operators may forget about. That measuring stick also drew a lot of attention from skaters wondering what she was doing.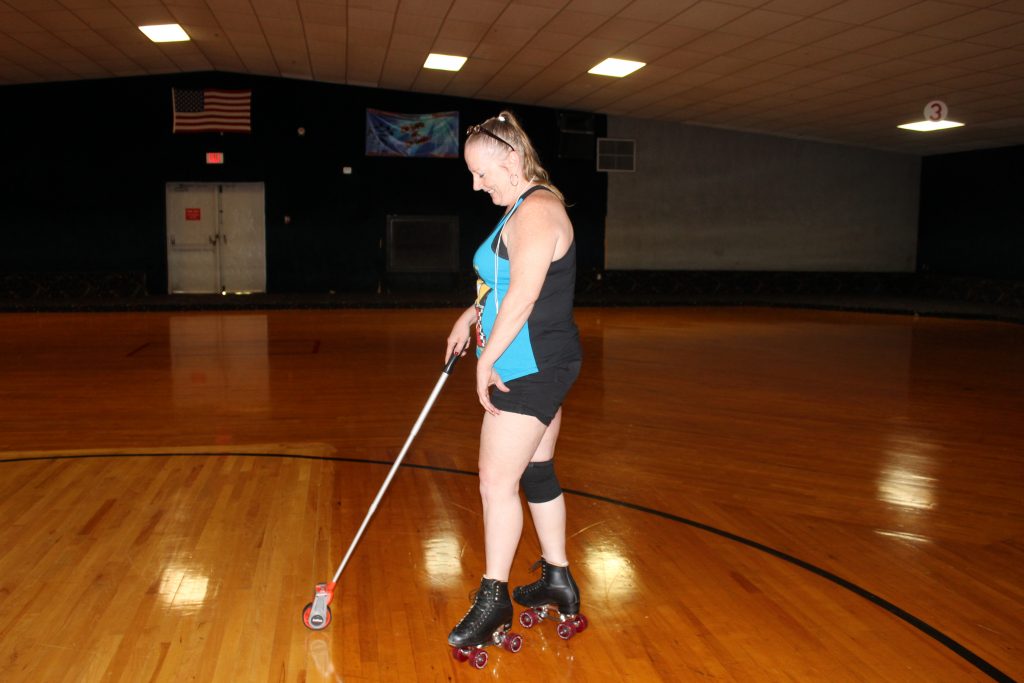 Her digital checklist ensures she doesn't overlook anything. "After I get the floor measured, I take photos with no kids or customers in them, and I look at other parts of the facility, including the restrooms, carpeting, condition of the skate floor, and snack bar. When I'm done, I go back and ask the manager more questions about the history, and what else they offer that would interest roller skaters."
"When did you shorten the floor?" Ginger asked. Or "when was this rink flooded?" She can tell by the stains or warps in wood floors. The rotunda maple floor is her favorite. "I'd love to see one being built in a new rink. Tell your readers if they're opening a new rink with a rotunda floor, I want to come watch the installation." (Editor's note: Finchum Floors, one of the premier installers of sports floors estimates a new regulation rotunda floor would run about $22 a square foot, or roughly $300,000 for a roller skating rink. That's why we haven't seen any added to rinks in more than 20 years.)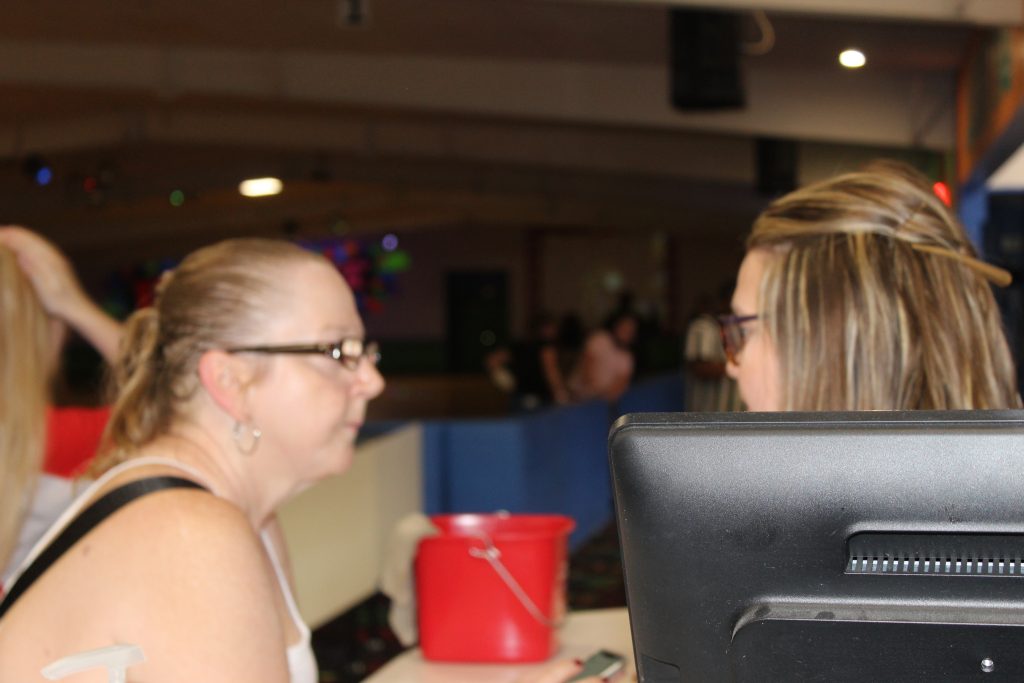 And then there's the question that digs a little deeper. "What can you tell me about this rink that I wouldn't know about by just walking in the door?" That's when she learns more about its history.
The Moment of Truth
Reviews are typically posted within a week of the her visit. "This rink gets 6 Wheels," she reported, referring to the Firehouse Sk8 'n Play in Vinton, Virginia, which was the second rink on our list of stops. Ginger always tells rink operators what they can do to get a higher score and promises to return. "I come back to see if they made the repairs and updates I recommended. I'm told a lot of floors are getting re-coated because of me." Firehouse had a broken sink handle and the carpeting needed cleaning which cost them 2 Wheels, but she praised the manager, the staff, decorations, and other facets of the operation. She even posted a video of the driveway leading up to the rink.
How it all began
Ginger started checking out rinks as soon as she got her driver's license. She wanted to skate at every rink in California and it was her family that urged her to take photos and write down her experience at each location. She didn't listen right away, but eventually she heeded their advice and officially launched "The Skate Critic" years later — buying up matching domains and custom social media handles. Overnight she attracted 800 followers and it continues to grow. She also ventured outside California.
Her goal is to visit every roller skating rink in the world, while also updating her list of current and dead rinks, to make sure they are never forgotten. "They hold a place in our history," she said. It's important to remember those rinks." She also wants to help rinks stay open. "We've been losing too many." Ginger amassed an extensive rink list, and keeps it up to date by placing a bi-annual phone call to each one, and by following their social media pages. She's usually the first to know whenever a rink is closing or a new one is opening.
Off The Floor
What you may not know about The Skate Critic just by reading her reviews is that Ginger is a mall walker. In every town she visits, she seeks out an indoor shopping center to raise her daily step score.
To see how your favorite rink fared, follow The Skate Critic on Facebook.