by Sara Hodon
Public skating hours are a great way to connect with other skaters and show off your skills, but if you really want to find your tribe and pick up some new moves from skaters from all over the world, a National Skate Party might be for you.
So what is a Skate Party?
Part skating session, part dance party, and all fun, a Skate Party attracts skaters (and non-skaters!) from around the world for a weekend of adults-only, all night skating, with other daytime activities like bowling, barbecuing, meet and greets, and trampoline parties added to the mix. These events give serious skaters the chance to let loose, meet other skaters and compare skills, and most importantly, have fun while keeping the sport and spirit of roller skating alive.
Skate parties have two major differences from public skating sessions at a local rink. One is the sheer number of skaters. Some of the bigger parties will draw thousands of skaters; a smaller party, a few hundred. (Skate critic and enthusiast Ginger Mathews says the parties are held at rinks. Some organizers have tried moving the parties to larger venues like a sports complex, but they haven't been successful because the floor in that type of venue is not the same as a rink floor). Second, the parties will have different styles of skating, from JB Chicago to Shuffle Skating. Third, the DJ is the focal point of the whole event. Rob Cusmano started 8 Wheels No Brakes, a well-known Skate Party in New Jersey and ran it for 10 years before retiring the event in 2018, and says the DJ makes the party. Many skaters decide which party to attend based on who else is going, but Cusmano adds, "Seventy percent choose [the party] based on the DJ." He cites Joi's Sk8-a-thon in Atlanta, which draws so many skaters, the party was split into two sessions—30 and under from 8 to 11 p.m., and over 30 after 11 p.m.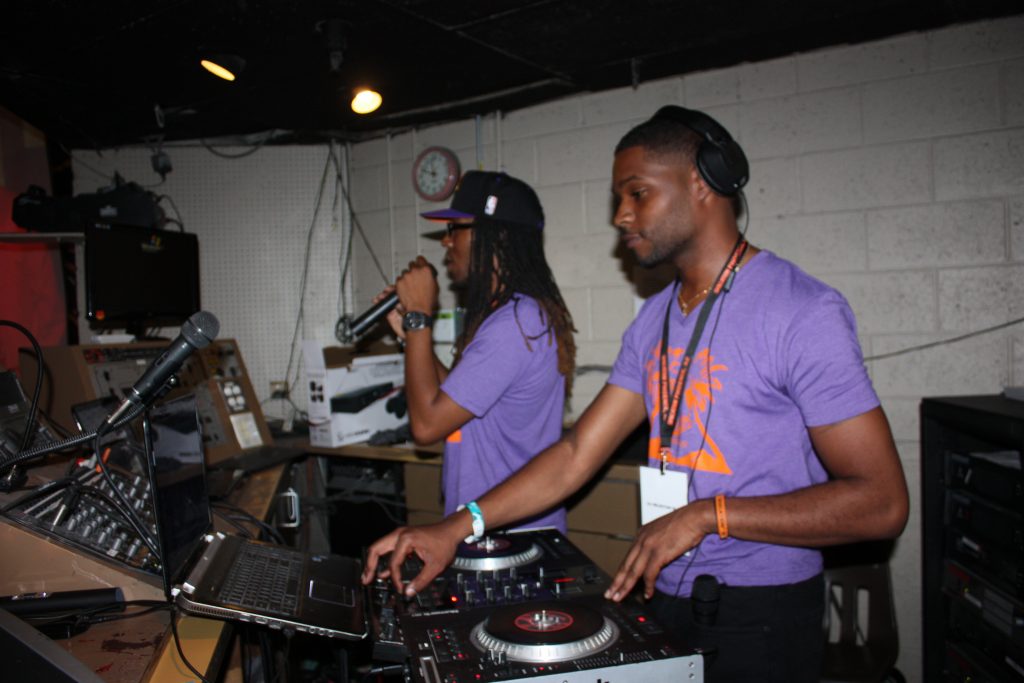 Skate critic and enthusiast Ginger Mathews goes to a lot of Skate Parties and says the experience is hard to describe. "They are so much fun! The music, the environment, the people—it's somewhere you can go and you can run into people from all over the U.S. and you can all skate together, whereas at home you only have your local friends. The music is off the hook from the minute it starts until the minute it stops—you won't want to get off the floor."
"But what if I'm not so much into skating?"
And forget about feeling uncomfortable. Cusmano says everyone is welcome. "They're good to attend just for the experience. There's so much to see—they're really like nothing else. Even if you're not that into skating, they're something to see. My wife will come along, and others who just like to sit and watch the skaters." Most of the bigger skate parties are at rinks in larger cities, but Cusmano adds safety has never been an issue. "Skaters are the nicest people you'll ever meet," he says, adding he's done quite a bit of skating in Camden and Newark, NJ, two cities with rough reputations, but says there's never been a problem. "The area or neighborhood where the rink is located has nothing to do with it. When you're inside, you just skate," he says.
But, he points out, the skaters who do take to the floor are serious and have the skills to prove it. So if you're just an occasional skater or don't have advanced skills, you may want to attend your first skate party as an observer and build up your skills. "A lot of rental skaters show up at these events," Cusmano says. "It's a lot, and it can be intimidating for rental skaters or first timers. A lot of these events don't allow rental skates on the floor."
The crowd can be overwhelming for a first timer, Mathews says. "I would suggest not picking a large party," she cautions. "Some can have 3- or 4,000 skaters. For someone who's never been to a skate party, it can be overwhelming and a little frightening. Try to attend one with maybe 2- to 400 people until you get your bearings and are a little more used to them."
"How do I find these parties?"
But if you've got the skills and you're ready to take your skating passion to the next level, it's time to find a party. Most party organizers promote their events the way just about everything else is advertised these days—"People advertise online," Mathews says. "You can also find them on my Facebook group." She adds, "You can also look on SkateGroove for listings—the only parties they have listed are the ones who pay to advertise."
Eric Bahr of Phoenix, AZ, has been skating for almost a decade and has been attending the Toestoppas' events (the organizers behind Sk8cation) for about seven years. An event admitting hundreds or thousands of skaters into one rink should be chaotic, but Bahr says that hasn't been his experience. "They're pretty organized," he says. "You can usually buy tickets at the door or in advance. The tickets are for the skate events; a lot of the stuff [bowling, etc.] is free."
Do's and don'ts for your first skate party
Skate party "newbies" should be aware of a few important things before hitting the floor for the first time. Above all, know the rules of adult skating. "It's very different from public skating," Mathews says. "You could get injured or injure someone else." To that end, Cusmano adds, "Do not try to get out of anybody's way. That causes more of a problem. The skaters know what they're doing—they're doing their moves and they will see you." Trying to dodge one skater ultimately puts you in the path of someone else, and this can lead to disaster. Mathews says, "There are so many people, rolling so fast—if one person goes down, they can take down 30 or 40 people in one shot."
Mathews also suggests arriving well ahead of the party's start time. "Get there about an hour early if it's a big party. You could be waiting to get in for an hour or more. If the rink reaches their limit per the fire marshal, you may have to wait for some people to come out first. If you're going to a large party, skate for the first 45 minutes to an hour, then get off the floor and just watch everyone else. The bigger, faster skaters will run over you or crash into you!" She speaks from experience. "I was at Soul Skate in Detroit, MI last year and I was skating and these two people were doing a little dance. They crashed—the guy right behind him crashed into them, and the guy in front of me crashed into them. Somehow, I crashed, rolled over, and got up as fast as possible because I knew it would be a pileup!" In other words, a skate party is really not the scene for the timid skater. Cusmano says, "Do not skate on the wall. Do not hang on. If you do this at an adult event, you do not belong there."
Although there may not be an official dress code (unless it's a themed party), Mathews suggests dressing lightly. "It gets hot inside with so many people! I would recommend wearing shorts and a tank top, even if it's winter," she says. "Also, depending on where you're going, you may want to lock up your skate bag. Some places can be on the rough side; it depends on where you're going."
If you think you've got the skating skills to show off with some of the best skaters in the country, try a skate party. It's a showcase of the sport at its best, complete with fellowship and fun.