A 5-day trip to Northern California by Susan Geary
If you're headed to Northern California, don't forget your skates. There are plenty of rinks, including outdoor venues to enjoy, along with different types of sessions to choose from. Here's the itinerary that Ginger Mathews (aka the Skate Critic) planned for me to get the most from my trip.
Wednesday: After my flight touched down at San Francisco International Airport, Ginger picked me up and we headed to the Golden Skate in San Ramone for Adult night.
Every Wednesday this quaint rink, located just off the 680 Freeway halfway between Walnut Creek and Pleasanton, hosts skaters 18 and older from 7:30 PM – 10:00 PM. Admission is $14 per person with quad rentals at $5 — $6 for inlines. Everyone entering must pay a fee, whether they skate or not. Skaters are required to enter through a metal detector that checks for weapons. The floor is polyurethane coated over plywood/particle board, and some of the seams appeared to buckle on one side of the rink. Great music and a fun DJ to start off our trip. I did notice the prices on admission and skate related gear are the highest in the region. Richard Humphrey, the founder of RollerDance.com, was in the house and demonstrated the Wave. He's provides roller dance instruction and has an interesting background as a stunt double and producer of skate instruction videos.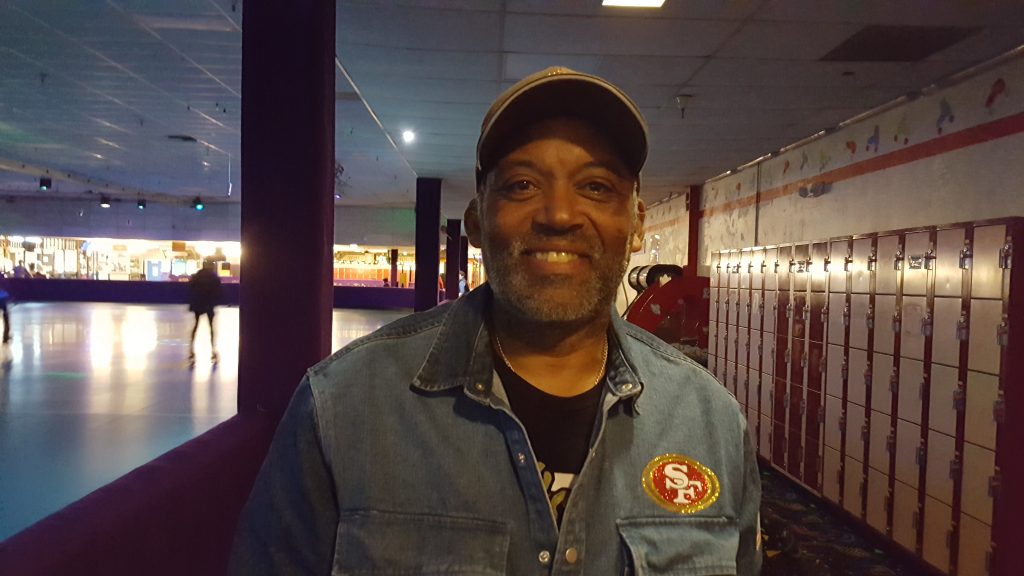 Thursday: Early Thursday morning we headed out to Citrus Heights to skate with seasoned veterans at Sunrise Rollerland, located Northeast of Sacramento near the Sunrise mall. Sunrise Rollerland is one of the largest wood floors in the West, and the 5th largest, nationwide (according to the Skate Critic). With a gorgeous rotunda floor that is well maintained, it was like skating on butter. This morning skate adult session runs $7 from 10-noon which includes skate rental and coffee and donuts. The music is a mix of soft rock, and more mellow top 40 music from the past 50 years. I ran into friends that were made years ago on Facebook, but had never met "in person." What a wonderful time and a fabulous venue. I picked up a souvenir t-shirt as well.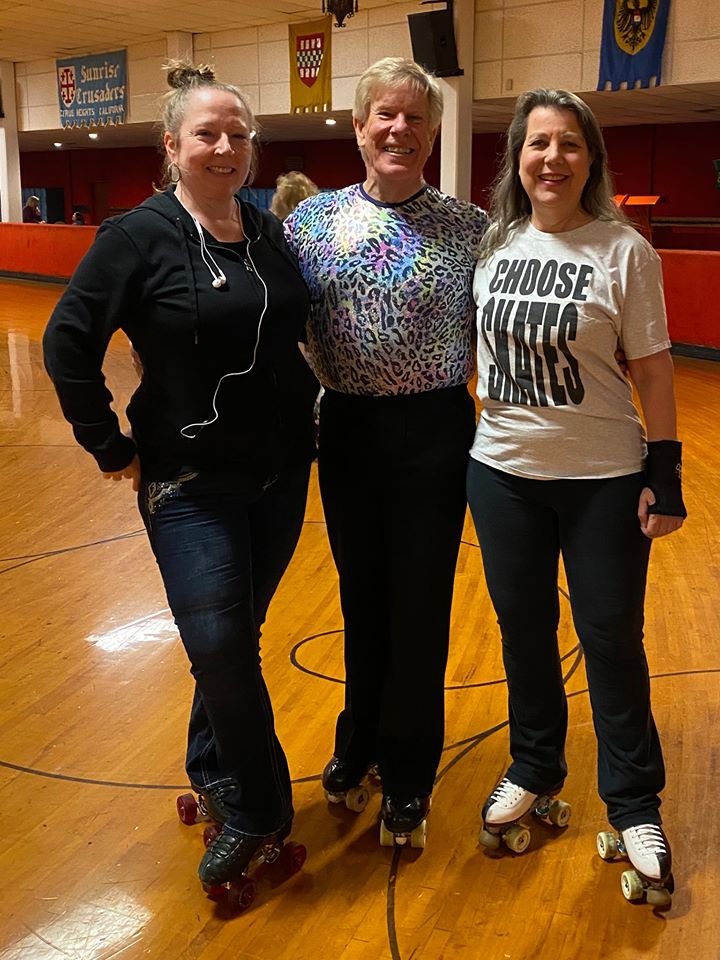 After the session, we drove by King's Skate Country in Elk Grove (south of Sacramento) which was closed, but we were hoping to go inside for a sneak peek. Perhaps next time.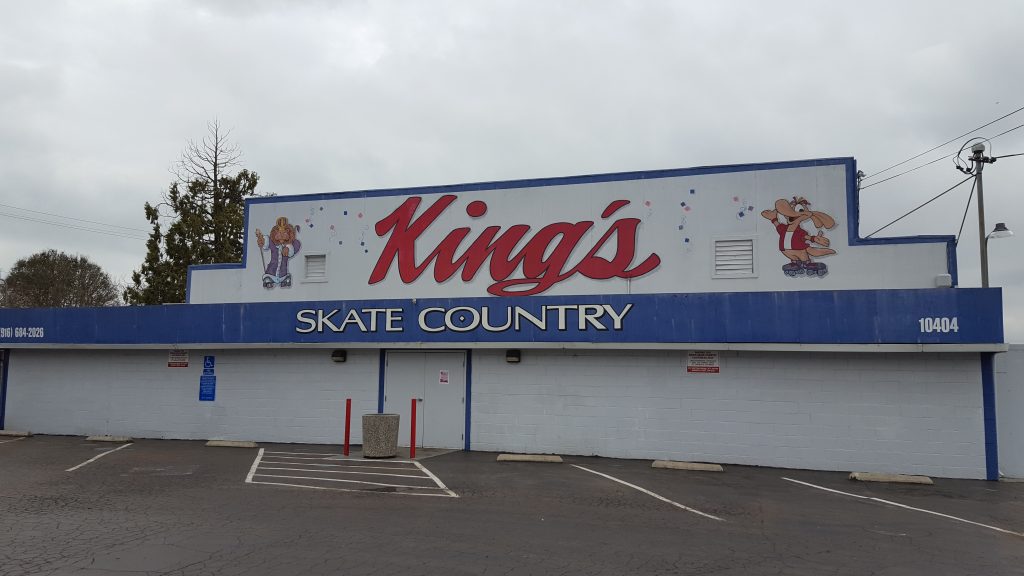 Friday: Next we headed to the Church of 8 Wheels in San Francisco at 554 Fillmore St. near Fell Street. This old church turned disco roller rink is run by David Miles, the Godfather of Skating. We went to the earlier session from 5-7 pm due to our schedule. It's open to all ages. But it's the 8-midnight adult session that's the showstopper. That's when you'll find a full house of adult skate worshipers, dressed in disco garb, to complement David's light up sparkly hat and fuzzy leg warmers. There is neon everywhere. It's a bit small, and more of a novelty rink, although it does have the original wood floor, brand new rental skates with light up wheels, and a fun selection of disco music that brought me back to my high school years when I was a rink rat in the 70s. Props also to David's lovely wife, Rose and their daughter who greeted us at the door and made us feel extra welcome during our visit.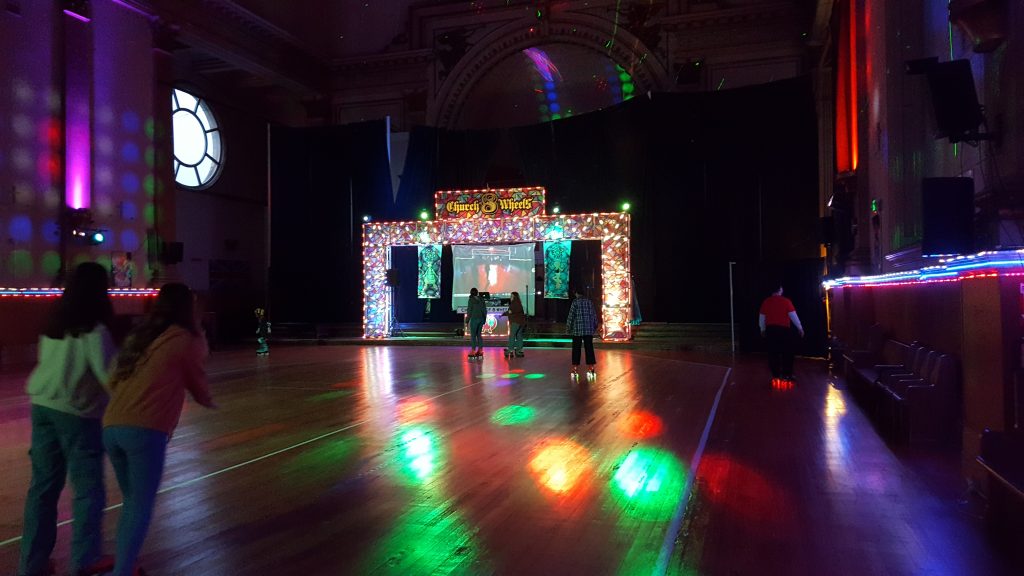 After leaving the Church, Ginger took me to San Jose to a pop-up rink in a former Sports Chalet at the East Ridge Mall. The owner, Liz Ruiz has done a phenomenal job in such a short period of time (8 days!) installing the Aloha Roller Rink, which started as an outdoor venue and morphed into the current location. It does have poles, which are well padded with pool floats, and they are lit up so you can't miss them. Also, the floor is concrete and there is a practice area for beginners. Liz has utilized the space nicely, and it's only been open about a year with huge party areas. A pro shop is also planned. The Hawaiian Beach theme resonates throughout, and there's lots of couches, along with pool tables and pinball; plus a mini golf course under construction. Our DJ was DJ Taz from 10PM to 1AM. He played a mix of disco, rhythm and skate classics, like ABBA's Dancing Queen, and Michael Jackson's Don't Stop Till You Get Enough. This was a very fun rink. Save time by signing the online waver in advance. $13 admission. Skate rental is $2 and $4 for quads or inlines.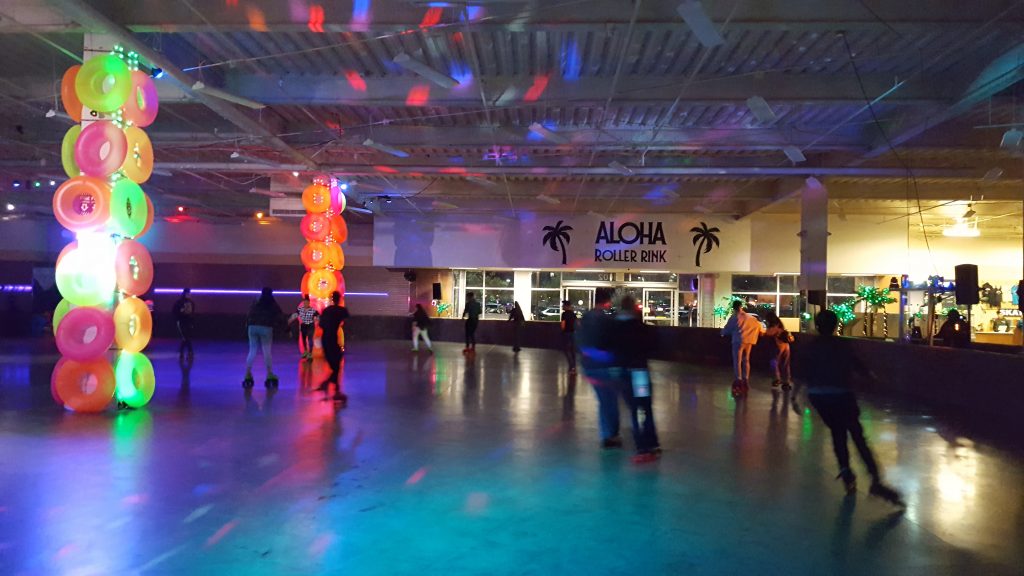 Along our route to San Jose, we stopped in Redwood City to see the recently shuttered Redwood Roller Rink. This iconic rink was owned by Jim and Suzie Pollard. Jim was a renowned skating coach and industry pioneer. After his passing, the family decided to sell the building, which is still looking for a new owner. The Quonset hut style is similar to Rollero, a former rink in the Phoenix area that closed in 2017.
Saturday we slept in till noon to prepare for the night's festivities that would run from 11PM until 4AM in Citrus Heights. The 2RAW Skate Club holds an Adult Skate on the last Saturday of every month with a national weekend party in April. 2 RAW stands for Rhythm and Wheels. I learned the 2 was added to get at the top of the schedule among nationwide events that are listed at SkateGroove.com.
On the way, I wanted to get my king pins checked to make sure I had adjusted my skates properly. Ginger took me to the Roller King in Roseville, which I always admired from afar. While we did not put on skates, I was amazed at not only the number of well-behaved skaters, but the hundreds of photos of champions that adorned the rink. Owned by the Jacques family, headed by Michael and Pat, both world-class skaters, their son Michael (also a champion) took a quick look and said my skates were fine. When it comes to skates, finding a good tech who understands the nuances of plates and how they work can be hard to find at times. On my next trip, I definitely want to skate here and take a lesson from one of their coaches.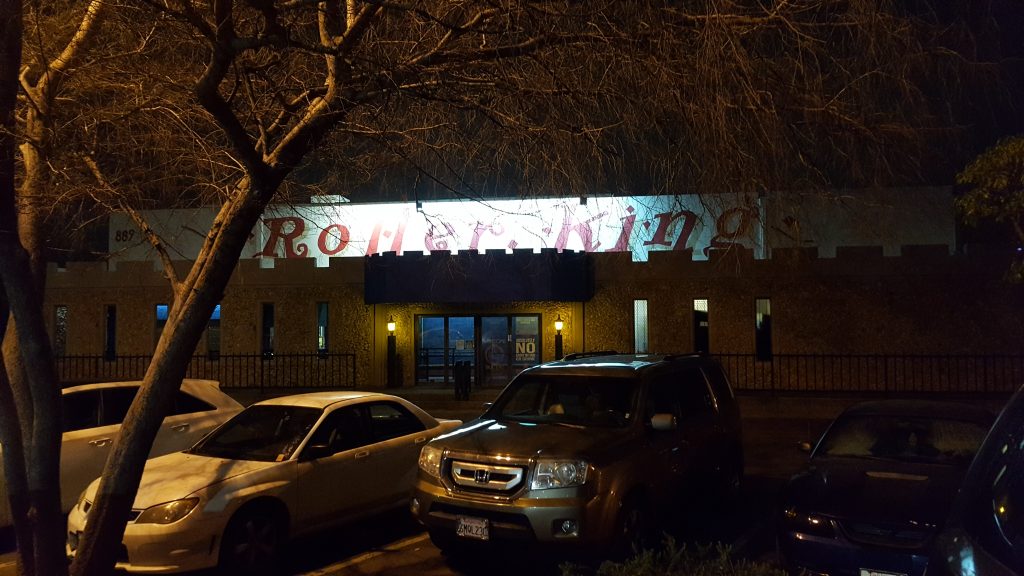 Back at Citrus Heights and Sunrise Rollerland we were ready to skate the night away at their monthly 2RAW event. The $18 admission price helps bring in DJ Bowen from Chicago, who is popular among rhythm skaters. 2RAW is in its 10th year and will celebrate with a weekend event April 16-18th. After the first hour, I stepped off the floor to stay out of the way of the shuffle skaters who like to skate very fast along the outside edge of the rink. These parties are not for beginners who can easily get run over if they don't understand the dynamics of the late-night adult skates. It's important to stay toward the center lanes if you don't participate in shuffle skating, and use the correct hand signals to enter and exit the floor. The rules are not very clear, so ask ahead of time if you do plan to go and avoid injury.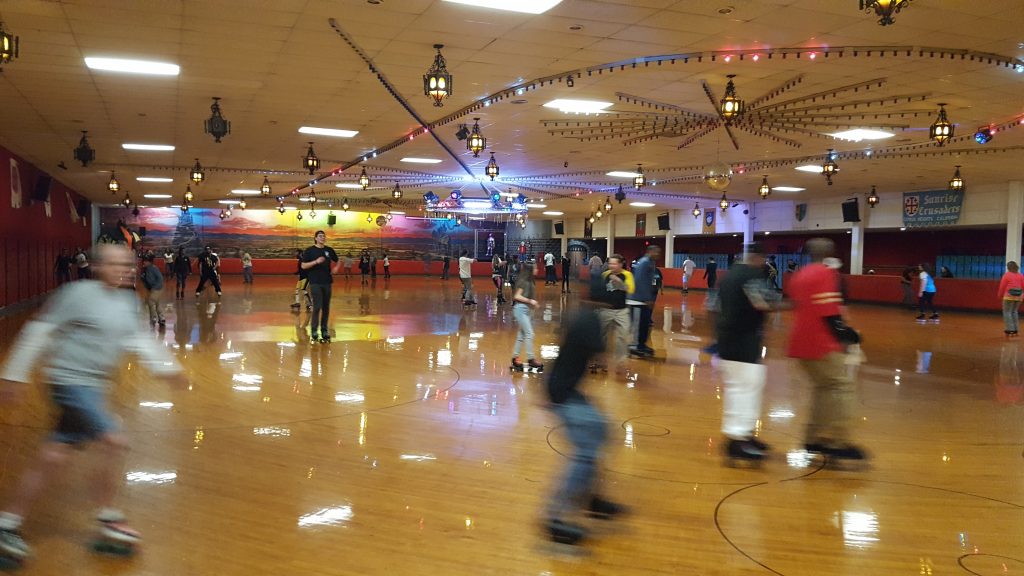 Sunday we headed back into the City to Golden Gate Park to meet up with David Miles (from the Church of 8 Wheels) for their weekly gathering of skaters. Known as the Skatin' Place in Golden Gate Park, the skaters move in unison to songs from Miles' boom box, while he spins around holding a wireless microphone, encouraging the group. According to an article in the San Francisco Chronicle, a group of roller skaters (aka The Skate Patrol) stopped the City Hall from banning roller skating in Golden Gate Park more than 40 years ago.) Now they have a permanent outdoor rink to call their own that is free for all to enjoy. There's even a guy out there skating with his little white dog. Note that parking can be lean, you may want to consider public transit if you go.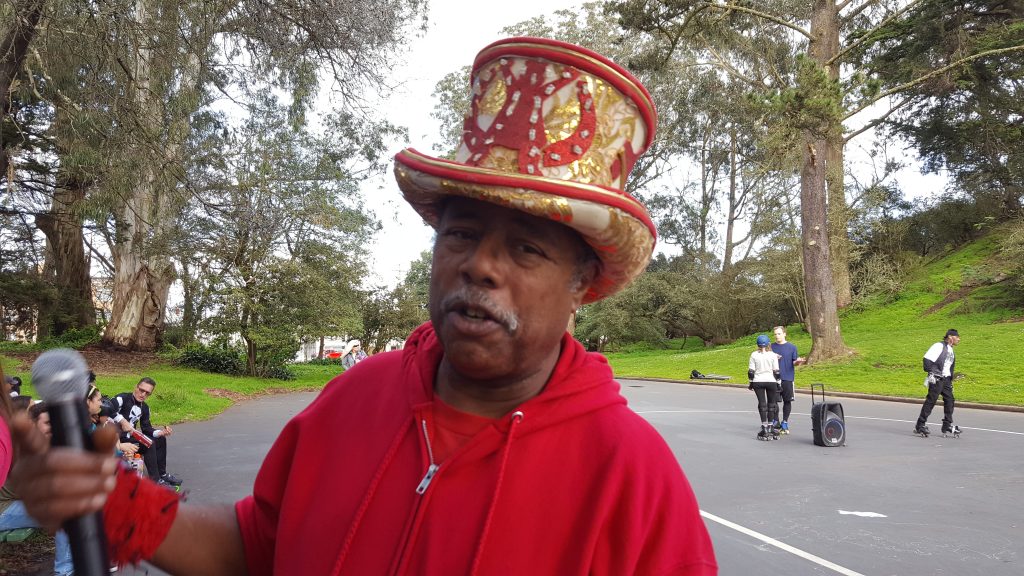 Later that afternoon, we checked out Paradise Skate in Antioch. This small rink with a wood floor is situated on the Contra Costa County Fairgrounds, and offers derby, a pro shop, skating lessons, STEM, and birthday parties. There was quite a crowd, music was supplied by the computer program FEC, and they played the Red Light, Green Light Game and the Hokey Pokey while we were there. I also got to try out a new pair of Golden Horse Artistic Skates which I plan to review in the future. We skated the 3-5:30 PM session. This rink also has a beach/surfer theme. I loved the knowledgeable and friendly staff and good mix of modern music. Admission is $10 for this session. Quad and Inline rentals are $5 additional. They offer group discounts for those with 15 or more.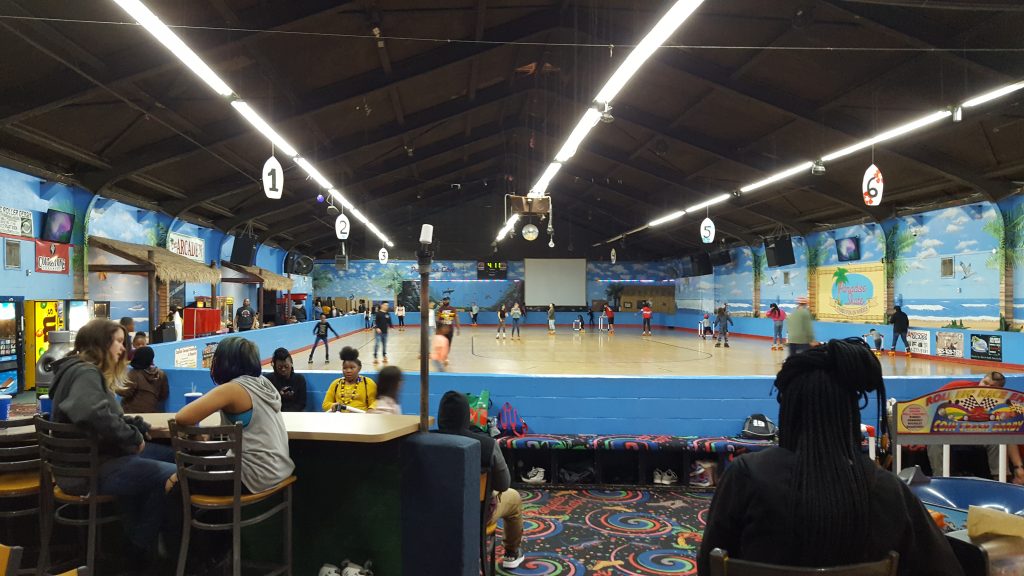 One thing I noticed about all of these rinks was the amount of skate-related items and gifts they had for sale with their logo on them. There were T-shirts, key chains, and other goodies.
My partner in crime, Ginger, the Skate Critic has full reviews of the rinks we visited, with more comprehensive info, such as the quality of the floor, rest rooms, and cleanliness. Check it out and follow her on Facebook at the Skate Critic.
You'll find videos and additional photos on our Facebook page at Roller Sk8r
The next time you're headed to California, don't forget your skates. There are plenty of great rinks there.