Looking for a career in rink management? United Skates is hiring. With 20 nationwide affiliated rinks, its newest in Clovis, California, USA has roller rink and family entertainment center (FEC) operations down to a science.
Internal Promotions
Karen Palermo is the current President of the affiliated rinks and is based in New York. She understands the culture well, launching her career at the admissions window at age 16 and working her way up to President. "We have a tremendous amount of tenure in our company and we're incredibly focused on promoting from within," she said, adding "One of the reasons I stayed so long was the financial information I learned, such as Cost of Goods, payroll percentages, how to control the different costs and maximize revenues."
Palermo became hooked on the company while she was still in college. "I was thinking of going for my psychology degree. Instead, I looked into a sales job (with the company) and got it because I asked for it. Once I started doing sales, I loved reaching out to our customers." From there she moved up to Vice President, Executive VP — and more than two decades later — President.
Freedom with Accountability
Palermo isn't the only employee who has stayed with the company for 10+ years. She attributes the long-time loyalty because managers are given the freedom to run their facilities as they see fit. Not that there isn't accountability. Every Monday, the managers check in for a company conference call to go over the week's numbers and cover a topic of the week to keep the rinks running optimally. And the company's policies and procedures are internally generated. "We take the best practices from one rink and use them across the organization. Although some of it is trial and error," Palermo admitted.
From Floor Guard to Sales Manager
Cheryl Thomas has spent nearly a decade with United Skates of America, starting part-time when she first moved to Phoenix 9 years ago from Sacramento. She was originally hired as a floor guard at Great Skate Glendale, and then moved into all of the other rink positions over the next 18 months: admissions, café, party host, DJ, and rental counter. After that, Thomas was promoted to session manager and is now the General Manager of Sales and Marketing at Great Skate.
Her day-to-day job duties involve selling school field trips (fun and STEM educational) and fundraisers to PTAs, booking private corporate parties, and placing 40-80 calls per day to stir up business in the rink. She's also on hand to help with the mad rush of rink guests, alleviating backups in the café or stuff shop. Usually after 30 minutes, the lines are gone and she's back at her desk selling parties and field trips.
Thomas says she likes that someone at USA Corporate is always there to help and only a phone call away. "They provide great communication with the staff, excellent training programs, and beyond. I knew nothing about sales and they taught me." She also credits her success to her passion for the roller skating industry.
Company History
United Skates of America was founded 45 years ago by Norm Traeger. "He took his kids for a roller skating party and the experience was terrible," Palermo revealed. "But there were a lot of people there." He figured if a business can do that well giving a bad experience, then a clean, fun, friendly and safe facility can do even better. His first two rinks were opened in Columbus, Ohio: United Skates on Refugee Road, followed by Skate Zone 71. Both are still in operation.
Career Progression
For the entry level positions, no experience is required and USA puts every employee through training. The key is finding the right team. DJs are typically promoted from Floor Guard. Floor Guards have to be good skaters and be able to assist our smaller guests and approach adult guests that may be breaking rules. A 16-year-old who isn't timid or shy. "They need to be able to tell an adult to remove their hat on the skate floor," said Palermo.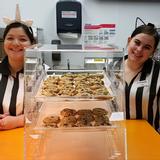 Being a Party Host is often times a promoted (and well paid) position, according to Palermo. "They'll work in cafe first to learn the system." Palermo emphasized that party hosts must have an absolutely fabulous personality and be incredibly organized to keep the parties straight. "They get tips and can earn a lot for more than their hourly wage," she added.
The Process
USA hires their entry-level team members through group interviews. After submitting an application, if you're qualified, you'll get a call back telling you the time and place to show up for the interview, how long it will last, how to dress, and an emphasis that you must be on time or you won't be allowed in late.
At the interview, you'll meet a panel of managers who will introduce themselves, talk a bit about the company, and describe the different positions that currently need filling. Then they ask the candidates to stand up and introduce themselves in front of one another. Because this is an entertainment business, you can't be timid or shy, because you'll be talking to a lot of different people on a daily basis. That's why they're interviewing you in front of 10 or more strangers.
Managerial Positions
Those applying for management jobs at a USA Rink won't have to undergo the group interview. And even though USA prefers to promote from within, they do recruit outside the organization when that isn't feasible. "I'm passionate about adding great people to our team and focusing on their development. We especially prefer those with a guest services or restaurant management background," said Palermo. As far as compensation, USA claims they are competitive and the GMs of each facility earn bonuses for surpassing revenue goals.
Online Reviews
The online reviews from current and former employees of USA are mixed. Some revealed the environment can be hectic, and were quite happy working there. Others were not so pleased with management at a few of their locations. Determining the legitimacy of these reviews is difficult, as some could be coming from a bitter ex-employee who didn't take well to being fired. With some sitess, such as Glassdoor.com, there has been some pushback because reviewers aren't verified. Your best bet is to go visit the USA rink you're interested in, check out the staff, ask why they like working there and how long they've worked there and decide for yourself if it's a good fit for you.
Here are the reviews we found:
Also note, USA rinks are typically open on all holidays, so you will be scheduled to work on some of them.
Where to apply
United Skates lists their job openings on their rink websites. Their nationwide affiliated family entertainment centers include Arizona, Florida, California, Ohio, Indiana, New York, Illinois, Maryland, North Carolina, New Jersey, Michigan, and Rhode Island.
——————————————————–
Susan Geary is a multi-certified resume writer at 1st Rate Resumes and SRSTA Certified Learn to Roller Skate Instructor in Roanoke, Virginia which is home to 3 roller rinks with wood floors.