Kate's Roller Rinks in the Greater Charlotte area of North Carolina, offer a legendary skating experience, whether you're 5, 65, play derby, speed skate, jam, or just want to hit up a public session.
Boasting a large wood floor at each of their 3 locations, each rink has something else in common. A fully-stocked pro shop, with techs on hand to answer your questions, get you the right fit, let you try them on and take a roll around the rink. Need wheels? They even offer to put them on for you. And the Pro Shop at Kate's sells items you won't find anywhere else, like a sweat towel with the Kate's logo, roller skate socks, and t-shirts. It's a skate junkies' paradise. But before we delve into all that Kate's offers, a little history…
History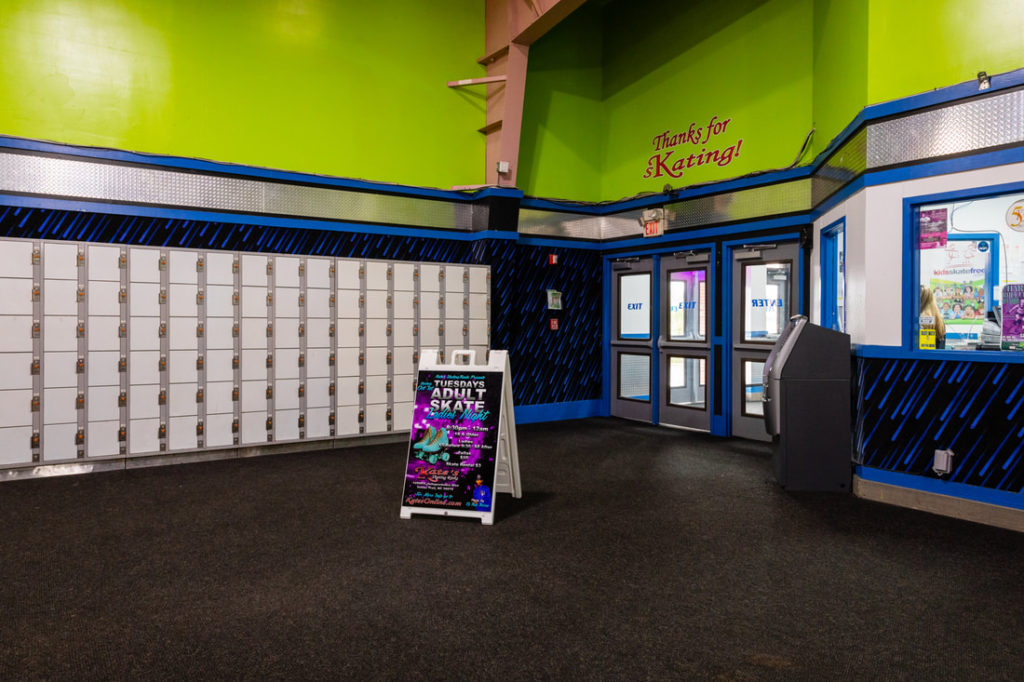 Kate's has been around for more than 60 years, with its first location opening in Lowell, North Carolina (which is now a fitness center, owned by a relative.) The family roller skating center grew to 9 locations in the Greater Charlotte area and eventually downsized to the 3 current rinks in Lowell, Hudson, and Indian Trail.
The corporate name is unlike any other in the country, because the business was named after Kate Grice. Decades ago, when her husband, John, proposed marriage, he vowed to put her name in lights. Both were into sports, too. John played professional baseball for the Charlotte Hornets, a minor league baseball franchise at the time. Kate played basketball.
The couple was highly involved in their church, and one day in the 1960s, while taking a stroll around Rankin Lake, Kate turned to John and stated, "These children need a place where they can get together, be supervised and have fun." John suggested a roller rink which became known as Kate's Skating Rinks. Fulfilling his promise to put Kate's name in lights, the rink was named after his wife. That, and "no one will skate at John's Skating Rink, but they will skate at Kate's," he told the local NBC television station during an on-camera interview.
Kate and John were avid skaters and actively involved in the operation. John was a floor guard and ran the sessions, while Kate managed the ticket window.  
The Grice's grandchildren, Billy Thompson, along with his sister Stacy, carried the business forward, with Billy eventually purchasing the operation in 2017. Stacy's husband, Dan Miller manages the Hudson location in Gastonia. Dan grew up skating and was a jam skater in the late 90s. "I knew him as a rink rat," said Billy, "He ended up marrying my sister, and we brought him on board." Stacy is now a full-time mom to their two toddlers, and manages social media for the business.
When asked about his own history with roller skating, Billy admitted he didn't grow up in the rink. "Nope, I never stepped foot in any of our family's skating rinks until I graduated from college with a business degree." Back then, Billy already had a job lined up in Atlanta, but his dad convinced him to run one of their locations instead.
Since then, Billy has taken the business to a whole new level with modern electronic games in the arcade, late night adult parties, customer-friendly locker rentals, and even massage chairs! He's also Vice President of a member-driven association of roller rink operators.
Skate Ambassadors
Additionally, Kate's Skating Rinks has four volunteer "skate ambassadors" who don a Kate's custom shirt and effortlessly glide about the floor during sessions to demonstrate all that you can do on skates. The ambassadors also help out when other guests ask, "how do you do that?" Billy even commented on how kind the ambassadors are, where they help put away skates or assist employees, when no one asks them to.
Adult Parties
Rolling in the Carolinas (RITC) is a dedicated national party on skates that takes place annually in March at Kate's. Skaters convene from all over the country to fill up the building to capacity. They are late night affairs full of adult skaters who rhythm and shuffle skate to a live DJ with a following of fans. This year's event took place March 17-20 at the Indian Trail and Gastonia locations and were shoulder-to-shoulder with close to a thousand skaters.
Other Sessions
Kate's also hosts adult nights at all their rinks, with live DJs, every week at each location. Their website promotes all their special events, Home School Skates, Lessons, and Stroll and Roll in addition to public sessions.
Baby Rink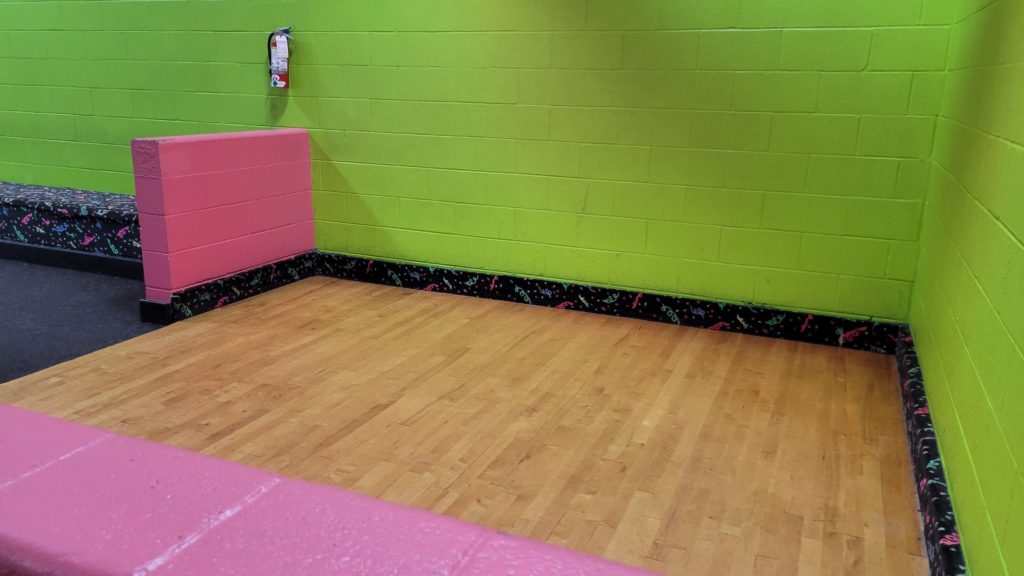 Sometimes the most intimidating part of learning to skate is getting on the floor around so many fast skaters. Kate's has that solved with their beginner corner at their Hudson rink. There's a wall to hang on to while you get used to the wheels under your feet on a smooth surface.
Massage Chairs
And if you're muscles are getting a little cramped, there are massage chairs to help get the knots out. They take cash and credit cards and you choose how long you want to get your spine manipulated.
The Pro Shop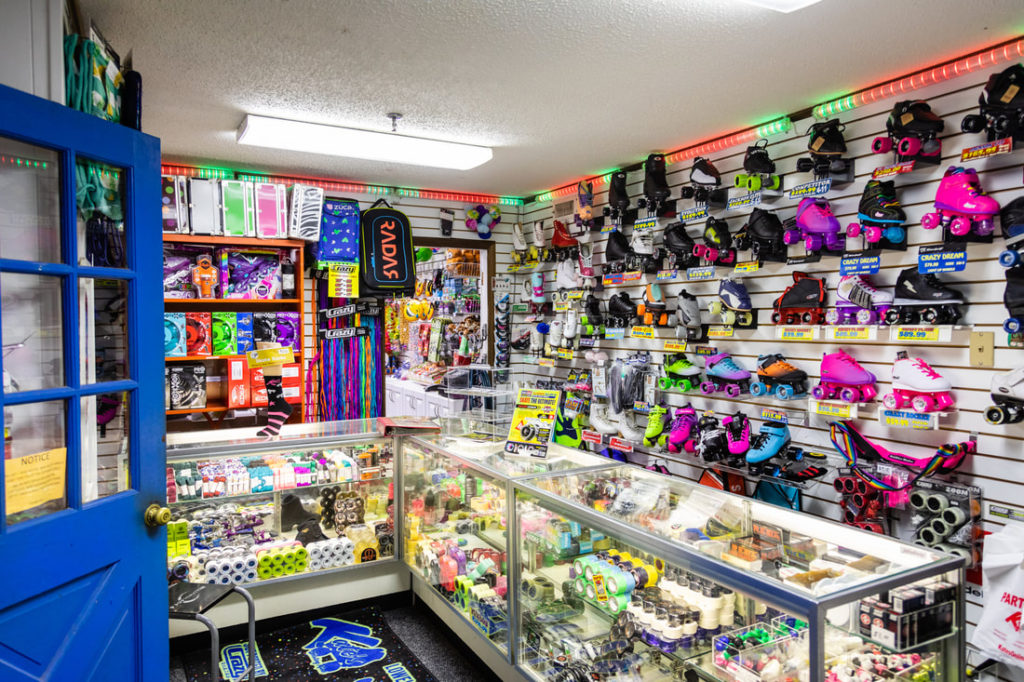 Few rinks carry much inventory, but Kate's is the exception. If it's a wide selection you're looking for, you'll find it here. They offer high-top quad skates in various colors, sizes, styles, and prices, from entry level to top of the line. They also sell inlines, accessories, and custom branded items for those who collect rink shirts and sweat towels.
For the RITC event, Billy ordered extra stock in the sizes he knows will be requested. During the skate sessions, he and his team build skates on the spot for customers who came not only to skate, but to buy new gear. And if one location doesn't have it, there's a good chance they will find the inventory at one of the other rinks. Customer service is paramount. Kate's sells nationwide via its website and is available to answer questions about the various brands, and sell skates that fit the customer as well as the way they skate.
Employment
Kate's is always on the lookout for reliable workers with a passion for customer service. You can apply online, but take note you will be expected to work on Saturdays. For those looking to own a rink someday, it's the perfect place to learn if this is the right career trajectory for you. Plus, you'll gain a lot of knowledge and hands-on experience on how to effectively manage a roller skating facility.
Kate's Legacy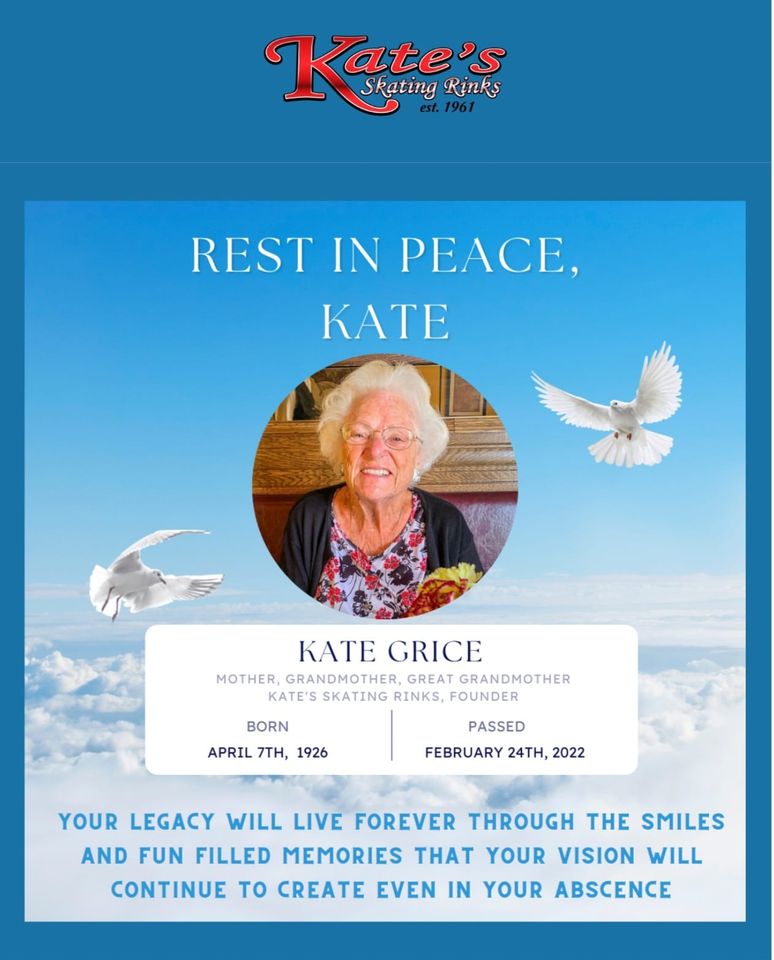 Kate Grice passed away in February at the age of 95. John Grice was 87 when he died in 2011. They left a legacy of rinks for North Carolinians and passionate skaters to enjoy for years to come, and are sorely missed by all who knew them. The Grices and their family have set the bar in rink operations management.
On Thursday, April 7th, there will be a Remembering Kate skate session at their Lowell location from 5-8 p.m.