All Skate, just not right now.
As the COVid19 continues to shut down our Country and our beloved roller rinks, owners and customers are devastated.
Today, members of the Roller-Skating Association gathered online for a Town Hall Meeting to not only discuss the effect it is having on skating businesses, but whether the National Convention and Trade Show will occur in late April. Just yesterday, Nevada's Governor shuttered all casinos within the state for the next 30 days. The RSA Convention is scheduled for April 26-May 1 at the Tropicana Hotel and Casino in Las Vegas. The Billboard Music Awards, which happens concurrently just across the street from the RSA Convention, announced their cancellation a few days ago.
According to Jim McMahon, the RSA's Executive Director, he's been trying to get the Convention postponed until late August. This will help rink managers get back on their feet from being closed for an indefinite period of time. For another, the global shutdown could affect the supply of skates, and novelty items that are made in China. Most of the rink operators responded they would happily attend Convention in August in Las Vegas.
As for rink operations around the USA, many owners have abruptly shut down after their state lawmakers mandated it. For others, they are staying open, letting the customers decide. Some are reporting single digit numbers in their customer counts which is providing the writing on the wall. Those that have remained open are receiving hate messages on their social media walls, while other customers, especially those who need a place to bring their kids because they have to work, were ecstatic the rink was open. If only for a short time.
Like many small business owners, Unemployment Insurance is not an option. And as far as Business Interruption Insurance, chances are it's not covered, because nuclear disasters and health pandemics are usually included. Plus, it won't cover lost revenue, for example, several thousand dollars a typical Saturday session brings in. But it can cover the expenses, like utilities and employee salaries. It doesn't hurt to ask.
The Small Business Association will have some loans to offer at very low interest rates, so there's a blessing as well. However, for those rink operators not accustomed to debt, that means payments that were never in the budget.
If there's any silver lining in this uncharted territory, rinks are getting cleaned and sanitized, and that has needed to happen for a long time. While they were open, I saw several rinks assign employees the title of "Sanitation Managers," constantly walking around and spraying down tables, gaming consoles, door handles, rental skates, skate mates, and any other high touch surfaces within the building. And for those closed rinks, operators are taking the opportunity to install new carpeting, resurface the skate floor, make upgrades, and finish those projects they were too busy to address in the past. After all, the skating business was going gang busters until just a week ago. Just like most businesses around the world.
Additionally, the music licensing companies, like ASCAP, will have to lower fees because no one is listening to their music when the building is dark.
However, it's all going to come at a cost. With higher unemployment looming and our budgets getting thin, please think about your favorite rink. As it is, there are just under 1,200 rinks in existence, down from 5,000 during the heyday of skating in the 50s and 60s. We can't afford to lose anymore.
Here are a few suggestions on what can we do to make sure our rinks will survive these turbulent times. Buy gift certificates. Go skate in your driveway or your Greenway and post videos online. Stay in the best skate shape possible. If you take lessons, ask your skate coach for a virtual lesson. Stay engaged with your rink's social media page. And when they re-open, go skate, buy food in the snack bar, and get a new pair of skates if it's in your budget. Support what you love so the rinks can stay open.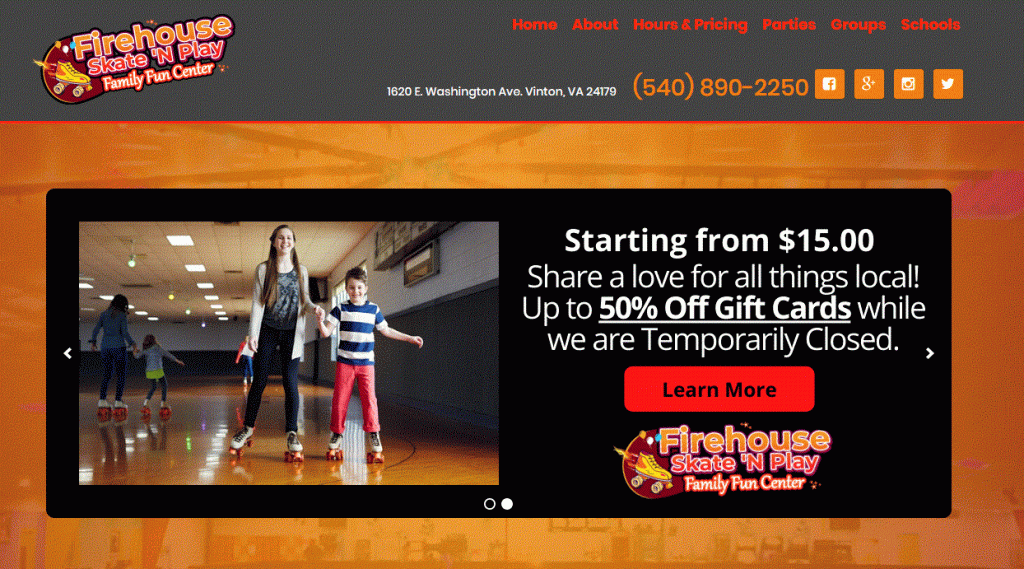 And for those rinks that are allowed to remain open right now, please don't hate on them. It's not an easy decision to shut down a business, or stay open during this emergency. Please be nice.
Nobody knows what's going to happen tomorrow, next week, next month, or even next year. All we have is hope and a prayer at this point. And hopefully we'll all come out of this just fine, if not stronger. We're all in this together. And we will skate again!