Since I wrote in previous blogs about why roller rinks no longer have windows, I thought it necessary to address ventilation. Rinks get stinky, humid, and hot when there's a crowd of people going 25+ MPH for hours at a time. The HVAC needs to be kept well-maintained to keep up on a hot summer day. Ceiling fans are helpful to move the air, but removing some of the stale air that builds up from sweaty skaters and wet rental skates, popcorn, and grease burning off in the pizza oven, is necessary. Because sweat and stink is a huge turn off to customers.
Regardless of the time of year, rinks need to be exhausted from time-to-time. That's why you see large fans incorporated into the façade that most customers barely notice. Some rinks have two. Most have four – two at each end of the building.
They are there to:
1. Expediate the removal of odor, whether it's sweat, burned food, or a new coating of floor varnish. The smell of new floor coating lingers. I've brought it home on my clothes after it's been newly applied, and for weeks afterward.
2. Dry the floor faster. Carpets will be steam-cleaned often, and built-in exhaust fans will take out the humidity more quickly and get those carpets dried before the next session. And since rinks have to apply floor coating and clean carpets after hours, the business needs to be up and running as quickly as possible. Most are lucky to get 2- or 3-day's time for floor maintenance. The skate floor and the carpets require drying time.
3. Quickly remove sweat. On a busy Saturday night or any given national party bringing in 700+ adults, the place can get hot, sticky, and full of sweat. That's a great time to open up the exhaust fans to air the place out.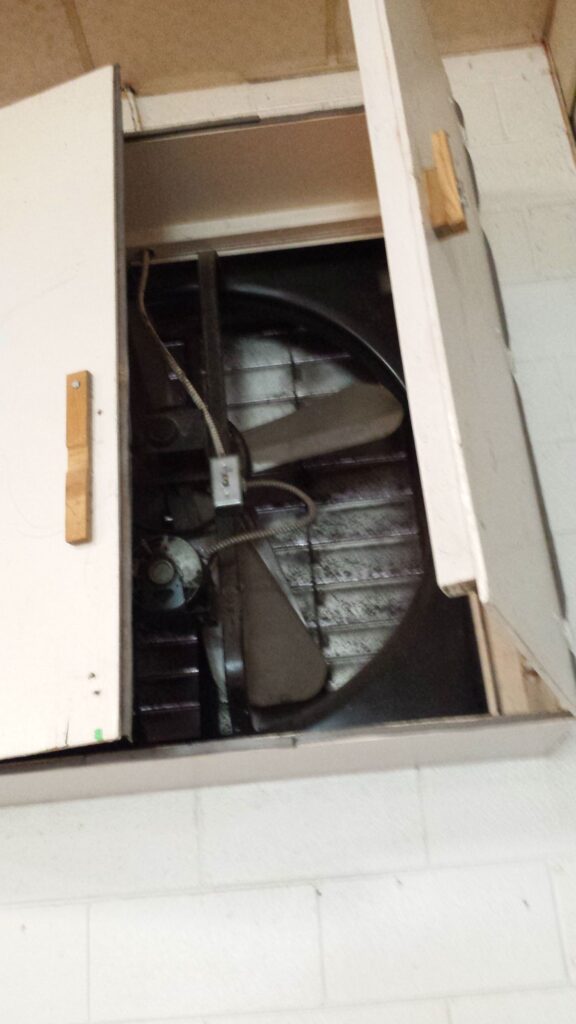 Planning
If you're building from the ground up, make sure to have your architect include building exhaust fans, as well as cabinet closures to retain heat and prevent pests from getting inside.
When checking out a location as a possible lease, make sure to consider how your building will be ventilated, because 700 people sweating in a small space needs some consideration.
And when scheduling carpet and skate floor maintenance, plan it annually during the slowest month of the year. For skating rinks, that is usually late August or early September.
Thanks for stopping by the RollerSk8r blog. If we can help you with planning your rink for maximum success and minimal stress, please contact us.