Great American Skate Raises Funds for Rinks Still Closed due to COVID-19
September 21, 2020 - 2:18 PM
(Handout from the Roller Skating Association International)
The pandemic has hit the roller skating and family entertainment center industry particularly hard across the United States. Eight states list indoor family entertainment centers as a few of the last facilities able to open, which means that hundreds of skating centers across the country are still closed with no end in sight. The Roller Skating Association International (RSA) has partnered with AMABAA (Alliance of Massachusetts Amusement Businesses and Attractions, Inc.) to create a nationwide fundraising event called the Great American Skate to help raise funds for legal, government and public relations efforts to get these businesses reopened.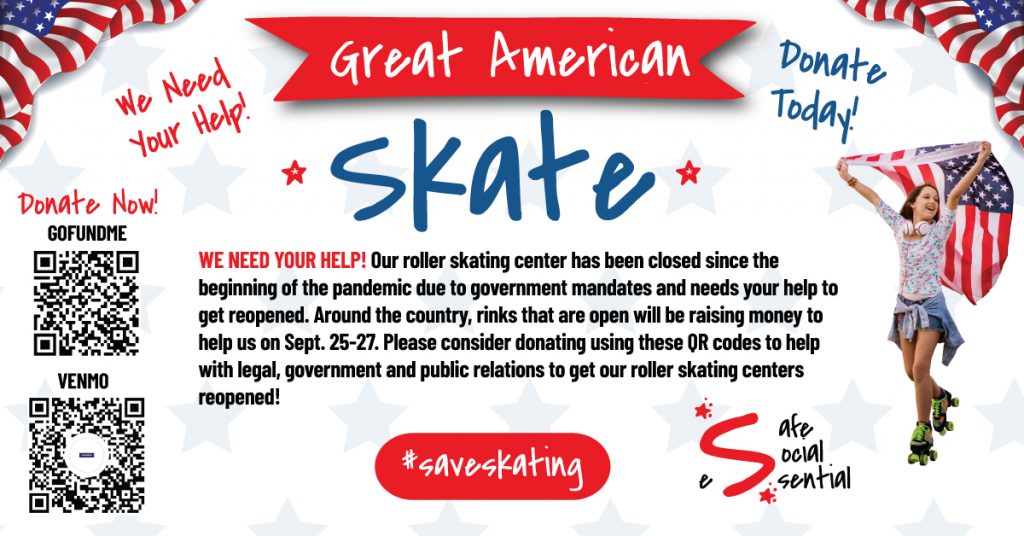 The Roller Skating Association encourages families, kids, and teens to visit their local roller skating center (if it is currently open) the weekend of September 25-27, 2020 where many rinks will be donating a portion of their sales to help reopen the hundreds of skating centers that are still shuttered.
Every day, we hear about business owners forced to close because they're unable to open their doors due to government mandates. Member-operated skating centers are working directly with the RSA to make sure that they remain the safest family entertainment venues in the country and are committed to ensuring that our members keep their communities safe and healthy as they reopen.
Roller skating centers are instrumental in providing a safe haven for youth, as well as a way to keep people of all ages healthy and active. And they are more than just small businesses and taxpayers—they host school fundraisers, provide STEM field trips to local schools for kids K-12, and provide a safe place for families to be active together in their communities. With the guidelines that the RSA has developed, a majority of state governors and officials have agreed that roller skating centers are safe to re-open. They have seen the commitment to customers and safety protocols and all have agreed that skating centers are safe to re-open. Skating centers have very large square footage and because they require customers to all skate in the same direction, our sport allows for customers to maintain the appropriate physical distancing between themselves and staff.
To find your nearest skating rink, please go to www.rollerskating.com/findarink and search your state and call or visit their website to find hours of operation. Individuals who are unable to participate in this event or who would like to donate to the cause can visit https://charity.gofundme.com/o/en/campaign/great-american-skate to make their donation today. Those using Venmo can donate to @AMABAA.
The Roller Skating Association (RSA) is a trade association that serves commercial (for-profit) skating center owner/operators. It also serves those involved in various facets of the roller related industry such as teachers, coaches, manufacturers, distributors and other elements of the family entertainment industry. It seeks to promote the success of our members through education and advancing the roller skating business.